Date Published: December 6, 2022
We're teaming up with Straight A Nursing podcast's Maureen Osuna, MSN, RN and diving into planning a schedule during nursing school. Maureen shares her best tips for students and advice for managing your schedule on a monthly, weekly and daily basis.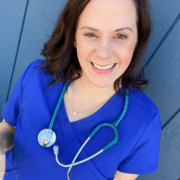 Meet Maureen Osuna, MSN, RN, the author of Nursing School Thrive Guide and the creator of the Straight A Nursing podcast. Maureen started her nursing career in the medical intensive care unit and continues to work at the bedside in the PACU. She has a master's degree in nursing education and is passionate about helping nursing students and new nurses succeed. For more tips on thriving in nursing school and in your career, visit the Straight A Nursing website at straightanursingstudent.com.
Q: Let's talk scheduling. What are your best tips for nursing students planning their schedule?
"One of the biggest challenges in nursing school is the intensity of the schedule. While you can't do anything about the demands on your time, I do have some good news: Being organized can actually be one of your nursing school super powers. It all comes down to how you plan your schedule and manage your time.
Regardless of whether you are using a digital calendar or a paper planner, you can schedule your time like a pro and, once you get the framework in place, it only takes a few minutes each week.
Step 1: Get your course schedules together. Where you obtain this information can vary. It may be in the course syllabi or it may be in the online learning system such as Blackboard or Canvas. Since this information is scattered throughout different documents or sections of the online learning platform, it is really helpful to put every assignment, exam, check-off, quiz, and project into a spreadsheet. Make sure you include the due dates for each one so you can sort by date. Once you do this, you essentially have a "to-do" list for the entire semester (and checking things off this list feels really, really good!).
Step 2: Add due dates to your calendar. If you're using a paper planner, your next step is to use the monthly planning pages to add the due dates to your calendar. You want to be able to view the monthly schedule at a glance so you always know what's coming up. You can add all the dates at once, but if that feels overwhelming, then do this planning monthly. Additionally, you'll also need to add these due dates to your weekly pages. When using a paper planner, I advise students to add this level of detail on a weekly basis, but if scheduling farther ahead works better for you, then go for it!
If you're using a digital planner, simply go into your calendar and add the due dates as individual events. For example, if you have a project on beta blockers due on Friday, Nov 18th, you'd create an event for that date at 0800 titled "Beta blockers project due." You can choose to do this for every item that's due throughout the semester or monthly and weekly as you go throughout your program.
Related Read: Success Tips from an Educator for Every Nursing Student
Step 3: Block out your school commitments. The key to mastering your schedule is time blocking, where you actually assign blocks of time to everything you need to do. The first step in blocking out your time is to input everything that has a set time assigned to it. This will likely be class times, labs, and clinical days. Time blocking is best done on a week-by-week basis and will make up the bulk of your weekly planning time.
Step 4: Block out your personal and work commitments. Next, go through your planner and block out chunks of time for all those things you must do to keep your life running. This includes your work schedule, personal appointments, kids' activities, grocery shopping, meal planning, and exercise.
Step 5: Block out time to study and do assignments. This is where you actually go into your planner and figure out when you are going to do all the things you need to do for school. If you've got a paper due on Friday, you might choose to block out two hours on Monday, two more on Wednesday, and another hour on Thursday to get this specific project completed. If you've got an exam next Monday, then schedule time throughout the prior week and weekend to review your notes, go over module objectives, create flashcards, and do practice questions. In other words, everything that has a due date attached to it, also has time blocked out on the calendar. This is absolutely crucial and the one habit that will make or break your ability to manage your time well in nursing school.
Let's review and tips by planner type.
Beginning of the semester: Make a to-do list of everything that's due.
Monthly: Add due dates for all assignments and exams to your monthly schedule.
Weekly: Block out time for time-specific commitments, completing assignments, and studying.
Daily: Look at your planner! It only works if you actually use it!
Tips for using a paper planner
Choose a planner that has both monthly and weekly views.
A planner with a weekly vertical layout works best for time blocking, especially when each day has the times listed.
Use a pencil! You will quickly find that schedules in nursing school can change frequently and the last thing you want is a messy and unorganized planner. If you use erasable pens, note that heat will cause the ink to disappear, so don't leave your planner in a hot car!
Take your planner with you to class and keep it on your desk when working at home. The idea is to constantly be utilizing this tool to keep your schedule on track and you can only do that if you're referencing it regularly.
Tips for using a digital planning system
At least once a week make sure you are accessing your digital calendar from your computer so you can really see the monthly view. If you only access your calendar on your mobile device, it's easy to just focus on this week. Having an idea of what is coming up is important, especially for projects that span multiple weeks such as studying for an exam or writing a term paper.
Take advantage of notifications to set reminders for due dates and events. Even setting a reminder a week or two in advance can be helpful, especially if it's a bigger project. The last thing you want is to realize you've got a paper due Friday when it's Thursday afternoon.
Consider using color coding. Experiment with color coding to see if it helps you get a feel for your schedule at a glance. Choose one color for your personal commitments, one for work, and one for each of your different classes. If that overwhelms you, then simply choose one color for school and one for home. There's no one right way to do color coding, as long as it works for you."
Wanting more tips for succeeding in nursing school? Explore these helpful articles.