Date Published: October 30, 2022
Let's talk nursing school success. From studying to clinicals and everything in between, we are sharing what sets students up for success from those who see it day after day, year after year: nursing professors. We recently sat down with ATI nurse educator Janet McMahon, DNP, MSN, RN, ANEF.
Meet Janet McMahon, DNP, MSN, RN, ANEF.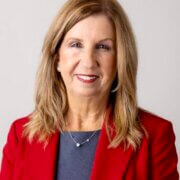 Dr. McMahon has worked with ATI for more than 6 years. As a Client Success Nurse Educator Strategist, Dr. McMahon works with various teams across ATI to assist faculty and students in understanding opportunities for using our tutorials and assessments. She aspires to help students know what they have access to and all that they can glean from their ATI resources, before and after graduation. Dr. McMahon believes that students' success is the same as ATI's success.
Previously, Dr. McMahon worked as a professor for almost 30 years teaching in PN, ADN, and BSN programs along the East Coast. She loves helping and mentoring students and has a proven track record of attaining those goals over her many years as an educator before coming to ATI. She was inducted into the National League for Nursing's Academy of Nursing Fellows in 2015, a prestigious honor in nursing education.
Before entering nursing education, Dr. McMahon worked as a critical care nurse in the ICU, ER, and CCU. She also taught paramedics and EMTs prior to teaching nursing.
How can nursing students set themselves up for success on Day One of their program?
One of the first things to do is to listen and learn. As a novice student nurse, it is overwhelming to begin a program of study. Allow yourself time and permission to learn. Make it a priority to study every day so you can reduce stress, meet expectations, and grow in your role. Find a peer mentor in a senior nursing student, if possible, to rely on as a resource for guiding your success. These students have experience and can guide you toward meeting your goals. I would also encourage students to utilize a nursing advisor. They are experts in listening and guiding you for help and solutions.
What advice would you give mid-program or soon-to-graduate students for successfully completing their nursing program and starting their careers?
Whether you are mid-program or graduating soon, this is an exciting time for you as you look for career opportunities. Have your resume ready to go early! There are professional Word document programs that can assist you with presenting yourself as a future nurse. Also, consider taking advantage of your university's writing center if that's an option.
On your resume, I encourage you to include a list of courses completed, awards, scholarships, and professional activities so it can illustrate your breadth of knowledge and skills.
Meanwhile, create a succinct cover letter to highlight who you are, where you want to be in nursing as a career, and how you could meet the expectations of the job with your knowledge, skills, and ability.
Related read: Resume Tips + Application Advice from Nurse Managers & Recruiters
Having additional documents ready to supply along with your resume, cover letter, and letter of reference can save time and help you succeed in securing that new position you are desiring. For example, you may want to include a letter of reference. But make sure you ask faculty for reference letters in advance. It's a busy time at end of semester or graduation, and these letters require time for them to create.
Remember, "You never get a second chance to make a first impression," so make your cover letter and resume a great first impression. You, after all, are marketing yourself for the new position or job you are seeking, so spend time on this aspect of your job hunt.
The future of nursing is exciting with you joining us!
Are there ways that successful students get the most out of their class time?
Definitely. Arriving on time or early is always best so you can be ready to go to learn. It's helpful to review the syllabus and read ahead about new material so you can reinforce learning and apply what you learned before coming to class. Stay up to date on expectations every day! A calendar can help with doing that as well.
Related read: Notetaking 101 – How to Master Taking Notes During Class
Likewise, if you are not sure about the content that is being taught, I encourage you to questions in class to help you master material that, perhaps, was new or difficult to understand. Anytime you feel unsure of a concept, write it down and either ask your professor, if time allows for discussion and clarification, or visit them during office hours.
What about studying?
When studying, focus on areas you do not know. If you have knowledge of a concept, don't spend additional time relearning or reviewing material unless you have doubts.
Remember ATI has many resources including webinars to help you learn and grow in your career! Some of my favorite include NurseLogic, Achieve (look for both on the "Learn" tab of the ATI Portal), Learning System (on the "Test" tab), Video Case Studies and Real Life (both on the "Apply" tab). These all will assist you in growing and learning how to be a nurse while thinking like one too when it comes to clinical decisions and clinical judgment. Check out our website for opportunities to learn with us.
Let's talk clinicals. What advice to do you have for students to set themselves up for success?
Clinicals are another area that require arriving early for success. Your clinical instructor will have a plan of care and assignment for you, which will require you to be ready to go. Having clinical prep forms that your college or university requires is helpful to guide your learning.
Making the first impression with your staff nurse — who also is working with your clients — is essential. Being on time, ready to learn, and demonstrating a sincere desire and passion to learn professionally are some of the best ways to get the most out of clinical. Come PREPARED — ask questions when unsure — but always come prepared for clinical expectations and be ready to learn and apply what you are learning from class, simulation, or clinical lab.
And of course, NCLEX prep. What are the most successful students doing?
Use your resources as you begin your journey with ATI. The NCLEX Experience is an excellent tool that helps you understand what you will be working toward as a graduate taking the NCLEX. There are other resources in your ATI package that can help you learn and understand nursing.
NurseLogic is an amazing tutorial that helps you begin the "think like a nurse." Nursing is not black and white; it is gray. Thinking creatively, learning to prioritize, understanding the role, and learning the frameworks for applying your knowledge while beginning your journey are all found within NurseLogic.
What else? BoardVitals, Live Review, and Virtual-ATI may be available to you when it comes closer to exam day. You can learn more about those NCLEX prep products, here.
And, of course, it's always helpful to reference the resources provided by the NCSBN, the administrators of the NCLEX. From the test plan to pass-rate data to an exam breakdown, that organization has an official overview of what you need to know.
Related read: NCSBN Resources to Help You Prepare for the NCLEX
In summary, if you could define a successful nursing student in 5 adjectives, what would they be.
Professional
Caring
Selfless
Action-oriented
Empathetic
There you have it! The ins, the outs, and the best advice for setting yourself up for nursing school success straight from ATI Nurse Educator Dr. McMahon. Ready for more helpful tips? Head to the Nursing School Success section of our student blog.