Date Published: August 16, 2018
As a nursing student, we know you've got a lot on your plate. To help you navigate the ins and outs of ATI's student portal, here are the basics.
You'll be glad you read this, even if this isn't your first semester using ATI.
The Home Page
Let us introduce you to your new best friend. The home page will be personalized with your recent activity for easy access to items you've recently worked on. Pick up where you left off in your modules and reference your Pulse score. If you aren't sure what that means, check out this article, Have You Checked Your Pulse? How To Understand Your Pulse Score.
Another feature on the home page is the News section. This will be the "News" source on the left-hand column to provide updates for opportunities to help develop your nursing skills, such as The Job Hunt Facebook Live event series and links to external resources.
Before we move on, there's one last thing to keep in mind. The homepage is also where you can add products using the Product ID Number that your instructor will give you.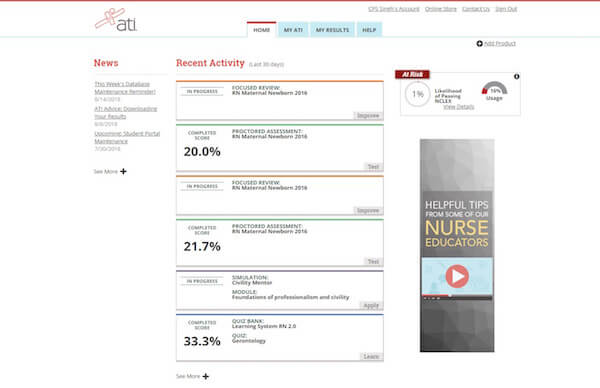 My ATI
My ATI is where you might be spending the most of your time in the portal. The Learn, Test, Improve, Apply and NCLEX Prep tabs are filled with content to learn and practice. Depending on your educator and your institution, what you see here may vary.
Learn:

The Learn tab provides you with flashcards, tutorials, and eBooks to help you learn within different areas. You can go back into any of these areas and remediate within modules to master specific content areas.
Test:

The Test tab is where Practice Assessments and Learning System quizzes are housed, and it's where you can go to find a Proctored Assessment when it's in session. It will say at the top of the section if a Proctored Assessment is available so you won't have to scroll through other Practice Assessments to find what you're looking for.
Improve:

This section is where you'll access your post-assessment Focused Review. Because we know everyone is different, these reviews are individualized to each practice and proctored assessment attempt and is intended to help boost your knowledge in areas you might be struggling in. Your Focused Review will look different than your classmates depending on how you performed within the assessments from the "Test" tab.

Apply:

The Apply tab gives you the opportunity to apply your knowledge in a simulation setting within the portal. The simulations and Video Case Studies will guide you through a virtual scenario to give you that extra practice you might not get time for in the sim lab.

NCLEX Prep:

NCLEX Prep will help you as you approach the end of your nursing school career as you get closer to taking the NCLEX exam. The questions and adaptive testing will replicate what the actual test will be like when it's time for your big day. Start looking at this sooner rather than later to ensure you give yourself plenty of time for NCLEX preparation.
Remember that you might not have some of these products available depending on your institution or level in your program, so don't sweat it if this list included products that you haven't seen before!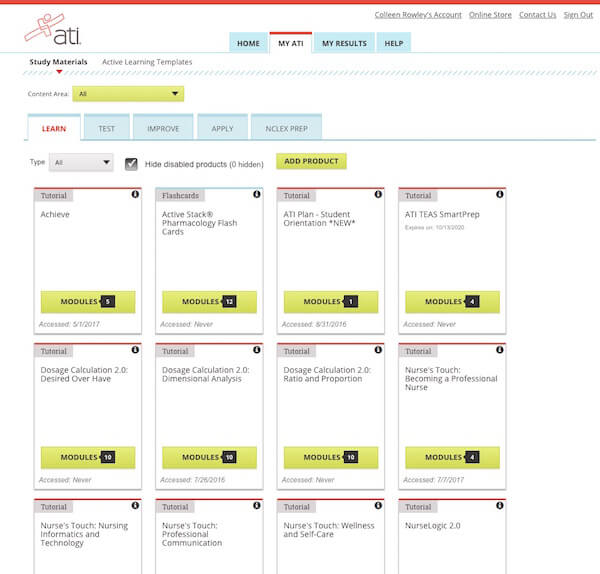 My Results
This tab will display your results from previous attempts in the assessments, tutorials, quizzes and more. You can check this to watch for your improvements or for those tricky areas you might need more practice in.
Help
The Help tab is filled with information for all your questions that arise when using the site. This section contains FAQs that deal with username and password issues, Focused Review access, purchasing materials and more.
A nine-minute video listed under "Getting Started with ATI" provides additional information about using modules within different content areas and the overall startup of your student account. This section will be your first stop if you have any questions about using the website.
For a more in depth overview, sign in to your ATI Student Portal and click the following link. http://sitefinity.atitesting.com/docs/default-source/default-document-library/howtocomprehensivestudent-newui.pdf?sfvrsn=2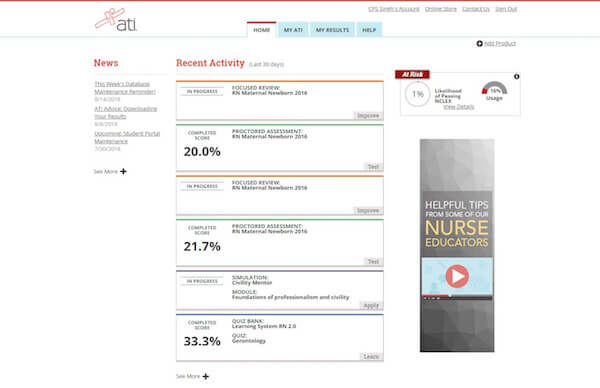 Miscellaneous Information + Resources
At the very top right side of the website, you can review your account, access the online store for additional materials, find ATI's contact information for further help, or to sign out of your student portal.
Make the most out of this semester and the rest of your nursing school career with some of the best practice tools you can get. Happy studying!