Date Published: October 27, 2016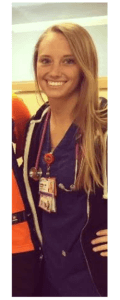 Meet Sarah Washington RN, BSN, a labor and delivery nurse at Rose Medical Center in Denver, Colorado. ATI Nursing Education interviewed Sarah about the ins and outs of the L&D unit. Curious to see what her day-to-day is like? We were too!
Tell us about your nursing career.
I started my career in Denver, Colorado on a Medical/Oncology unit at Rose Medical Center. I worked on that unit for two and a half years then moved to Labor and Delivery within the same hospital. I have been a Labor and Delivery nurse for a year and a half.
What does your typical day look like?
There is no "typical" day in Labor and Delivery, every shift is different. In any one day I might care for patients in triage, perinatal, antepartum, postpartum, operating room, PACU, or actively laboring. I think of L&D similar to an Emergency room, we never know what will come through the door and have to be fully prepared for anything.
What is the most rewarding thing about working in your unit?
The best part of my job is being involved in one of the best days of people's lives. Having a child is one of the most memorable experiences in someone's life and I get to be there to witness these emotions every day of my work.
What is the toughest part of your job?
The toughest part is that, although rare, there can be unforeseen and devastating outcomes. The loss of a baby is the worst case scenario. When this happens, everything turns around and becomes the worst day in the parent's life. As the patient's nurse, we have to stay strong for them and help them get through that difficult situation. It is challenging for me to "leave work at work" sometimes, especially when staying strong for the patient all night. Sometimes I come home from work and can't help but break down.
How did you adapt to working night shifts?
I'm not sure if I'll ever adapt to working night shift. I've learned what works best for me and I try to stick to it. Strong family support is a crucial factor, and I don't know what I would do without my husband's support. I have to wear a sleeping mask and earplugs, otherwise I can't sleep during the day. After my third night shift, I do something that forces me to stay awake, so that I can sleep that evening to readjust to a normal sleep cycle. I eat healthy, take a multivitamin, and try to exercise a few times a week to stay in shape both physically and mentally.
What advice would you offer nursing students who want to work in labor and delivery?
I would advise a nursing student to get a CNA/Tech job in women's health, or try to get their senior practicum in L&D. It is such a specialized unit, that it would be good to work on the floor prior to becoming a RN. L&D is challenging because you are taking care of two patients at a time, both the mother and the baby, which is something many nurses struggle with.
What is one thing you wish you would have known as a new nurse?
I wish I knew that it would take me at least a year in a certain specialty to feel comfortable and confident as a nurse. Even switching from Medical/Oncology to Labor & Delivery, I felt like a new nurse all over again. Each field of nursing is distinct and poses unique challenges.
Looking to learn more about the day-to-day of being a nurse? Be sure to like
ATI Nursing Education
on Facebook for updates and articles just like this.