Tell us about your nursing career.
I started in nursing as a high school student. My high school had an LPN program, so I was able to become licensed as an LPN at 17 years old. Afterward, I completed an LPN-to-RN program, then was in a BSN program, and just completed my master's in August 2022. I started my career in long-term care as an LPN and RN, then I transitioned into subacute/acute rehab.  I began working on a med-surg telemetry and progressive care unit. During the pandemic, my unit was converted into ICU overflow, which helped me to gain step-down experience.
In September 2021, I began working as a travel nurse. In that role, I've worked in an ER holding/CDU & Observation unit, as a tele-float nurse, and on a med-surg neuro unit. However, I'll soon be leaving direct-bedside care to embark on my new journey in nursing professional development.
What inspired you to become a nurse?
I've always been interested in science, and I've always seen myself as a natural caregiver. However, my biggest inspiration to enter the nursing profession was my parents. In my parents' home country of Haiti, nursing is seen as one of the most respected professions. As a means for social advancement in the United States, my father heavily encouraged me to get into nursing, although I did question whether I would be a good nurse. But when I was in elementary school, I watched my mom work her hardest to complete a nursing program while working full-time as a CNA. Sitting with her and studying with her helped to inspire my fascination and love for nursing, which led me to become the fierce advocate for the nursing profession today that I am today.
During your time in your current role, what does your typical day look like?
As a travel nurse, my day varies. Usually I arrive at work, take reports, and round on my patients to introduce myself, ensure they're okay, and answer any questions they may have that came up during change of shift. I verify that any fluids or drips are correct, monitors are connected and functioning, etc. I also use this time to perform baseline assessments such as neurological status, IVs, and heart rhythms on telemetry. I personally like to do my assessments early in the shift to give me a baseline of how the patient is doing clinically so that I can clearly note any changes from baseline. Afterward, I like to organize myself for the next shift by creating a to-do list; I write down important tasks that need to be completed for the nurse taking over for me to ensure nothing is overlooked. Then I perform med pass. After that, I usually chart, and then I continue rounding on my patients for safety. I maintain constant communication with the provider in regard to any issues or recommendations, and I monitor for changes in my patients that require further intervention. Although this may be a basic day, each day is different, and you honestly never know what to expect when working as a nurse.
What's the most exciting part?
The most exciting part is how dynamic nursing is. Things can change at the drop of a hat, and you have to be prepared. At every job, I've been known as the person who runs to a rapid-response. Although I hate that a patient may be decompensating, I love using those moments as a learning opportunity. It gives me the chance to observe how the doctors and providers assess and handle the situation so I'm prepared for other situations like it in the future.
What is the toughest part?
There are so many tough parts about med-surg and PCU. We have a heavy workload due to our volume of patients, and it is often very difficult to take a break because of all the tasks that need to be done. There are also issues such as short staffing that adds to our burden. However, one of the toughest parts of this profession is realizing that, though we truly try our best to provide life-saving care, not everyone can be saved. Our patients suffer debilities and even lose their lives. For me, that's one of the most heartbreaking parts of being a nurse.
Which courses in nursing school helped you prepare for this role?
My courses in anatomy, pathophysiology, and pharmacology were great preparation for this role. Anatomy gave me an in-depth understanding of the body and its functions, which taught me to guide my assessments and kept me aware of what was abnormal. Pathophysiology gave me an understanding of the disease process and how it can affect the body. This helps me to explain that process to my patients to improve their education and decrease any fears. Pharmacology, although a challenging course, really helped me understand the medications I'm administering and their effects. Having an in-depth knowledge of pathophysiology and anatomy has always served as the building blocks for pharmacology. Understanding how the body functions and how disease affects it allows me to clearly understand how medications work, how they will improve a condition, and why certain side effects arise.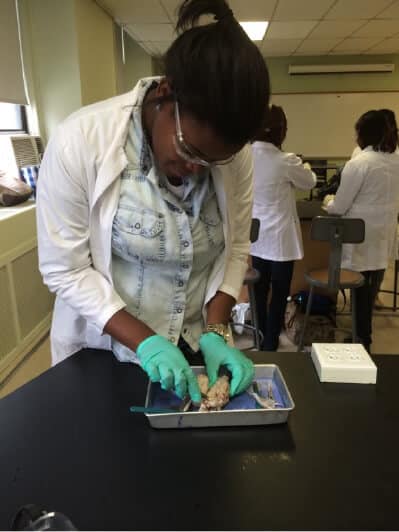 Any other tips for in-program students?
In case people didn't tell you: Practice answering questions! NCLEX-style questions are the best way to prepare yourself for taking the NCLEX exam. You may know the material, but you're trying to learn and understand how to apply the information. Further, it's never too early to start NCLEX preparation. By preparing yourself early, the NCLEX examination becomes a less daunting task.
What advice would you give to nursing students wanting to go into this specialty?
Med-surg and PCU are great building blocks for so many other specialties. Experience in these areas can prepare you to manage time well and assess effectively. However, know that you don't have to start in med-surg just because you hear people say that's where you should start. If you want to explore any other specialty, don't let yourself be limited to med-surg. The whole nursing world is your oyster!
What do you wish you would have known before starting your nursing career?
I wish I knew how versatile the nursing profession was. As a student, I only limited my career to bedside and nurse practitioner. However, being a nurse opens the door to diverse career opportunities such as education, leadership, and even entrepreneurship. Understand that you can utilize your nursing degree to create the life you want. You just have to be open to the opportunities.