Date Published: September 3, 2021
I can remember it as if it were yesterday. It was the final semester of nursing school. We were going to start our final rotations in the hospital, have our capstone projects, and take THE biggest exam of our lives in just four months' time. But then everything changed. What was supposed to be the most exciting time of 2020 became one of the most challenging times I have ever experienced.
Like the rest of the country, COVID-19 hit hard in Arizona. We were living through a pandemic that none of us had ever experienced or expected. My last semester, our clinical rotations were cancelled, our lectures were all held online, and the uncertainty of even graduating was looming over our heads. Luckily, we were able to still graduate (even though our commencement ceremonies were all cancelled). The NCLEX was uncertain since many of the testing sites had closed down. But luckily they reopened with limited capacities and safety protocols in place. After I had passed my NCLEX, the excitement of starting my very first nursing job kicked in!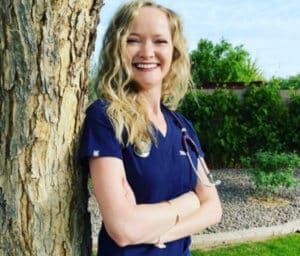 But, COVID was far from over. When I took my first job, I was told it was a COVID unit and was asked if I would be comfortable working with COVID patients. At this moment in time, there was no vaccine yet, and there was still so much uncertainty when it came to the virus. I was scared. I didn't know what to expect, especially as a new grad nurse. The first few months of working was unlike anything I had ever experienced. So much death. So many very sick patients. The hospital was ripping at the seams. Nurses were coming down with COVID, and we got used to being constantly short-staffed. I was just trying to learn to be a nurse, and now I was having to learn at an exponential rate how to be a COVID nurse. I had no idea what was going on. These patients were so sick. I asked myself many questions:
"Am I capable of being a nurse?"
"How can I handle all of this?"
"Did I make the right decision?"
I learned very fast that nursing is messy, not black and white, and very challenging at times. But one of the biggest things I learned was just how strong I really am and that, no matter the hardships or how difficult times were (and they really were. I had many moments in the car crying.), I was meant to be a nurse. I learned that I am capable of doing absolutely anything I put my mind to. I never gave up even when things got difficult. I am stronger than I thought I was.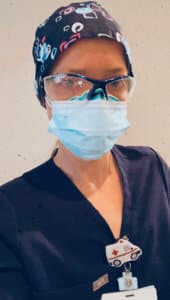 A piece of advice to anyone out there, no matter what in life is going on: Never give up. Keep pushing forward. We are in this together. And we will get through this together.
Stay safe out there, friends!
Much love,
Kristen, BSN, RN
Cardiothoracic Tele Nurse
Follow Life in Scrubs' on Instagram and check out the ATI episode on their podcast.