Date Published: Oct. 7, 2023
Sometimes, knowing what to study during nursing school can be tough. With tons of chapters and hundreds of textbook pages packed full of information, not to mention your notes from class, it can seem impossible to pinpoint the material that you need to spend your precious time reviewing in order to improve your understanding of key concepts and skills a nurse should know.
Luckily, ATI Focused Reviews can help alleviate some of the stress of knowing the areas that you should be studying. Below we're sharing an overview of a Focused Review and how you can get the most out of regularly using one throughout your nursing school journey.
What is a Focused Review?
A Focused Review is a personalized study plan that is designed to help you address gaps in your knowledge and improve your grasp on the material that you have not yet mastered. A brand new Focused Review is automatically created just for you every time you take a Proctored or Practice ATI Assessment and it's based on your performance on that assessment. In a nutshell, your Focused Review will tell you what areas of content you need to study to improve. 
By focusing on your areas of weakness, a Focused Review helps prevent you from spending all of your time studying information that you have already mastered. Plus, your study plan will direct you to the exact pages in your Review Module eBooks that have the material you need to study, saving you from spending even more time searching through all of the content.
How can I access my Focused Review?
After completing an online practice or proctored assessment, you will have access to the Focused Review experience. To find it, visit the "My ATI" section of the student portal, click on the "Assessments" tab and look for the results of the assessment you just took. On your Individual Performance Profile (IPP), you will see a list of major content areas.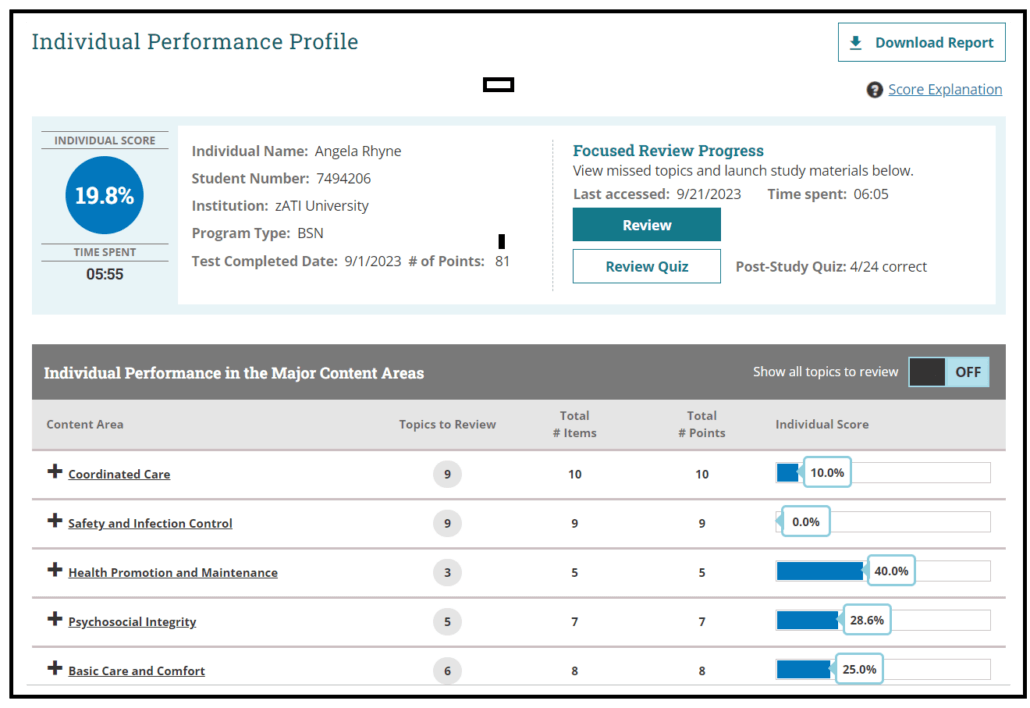 These are the same as the "Topics to review" on your "Results" report. By clicking on the "Review" button, you will launch the Focused Review experience. Then click the "Focused Review" button on each content area to dive into the material that you need to master.
How can I get the most out of my Focused Review?
Focused Reviews are already personalized to you and are specially designed to help you remediate your areas of weakness, so simply utilizing this resource in the first place is an amazing step towards improving your grasp on the material!
Below are a few more tips that can help you get the most out of each Focused Review.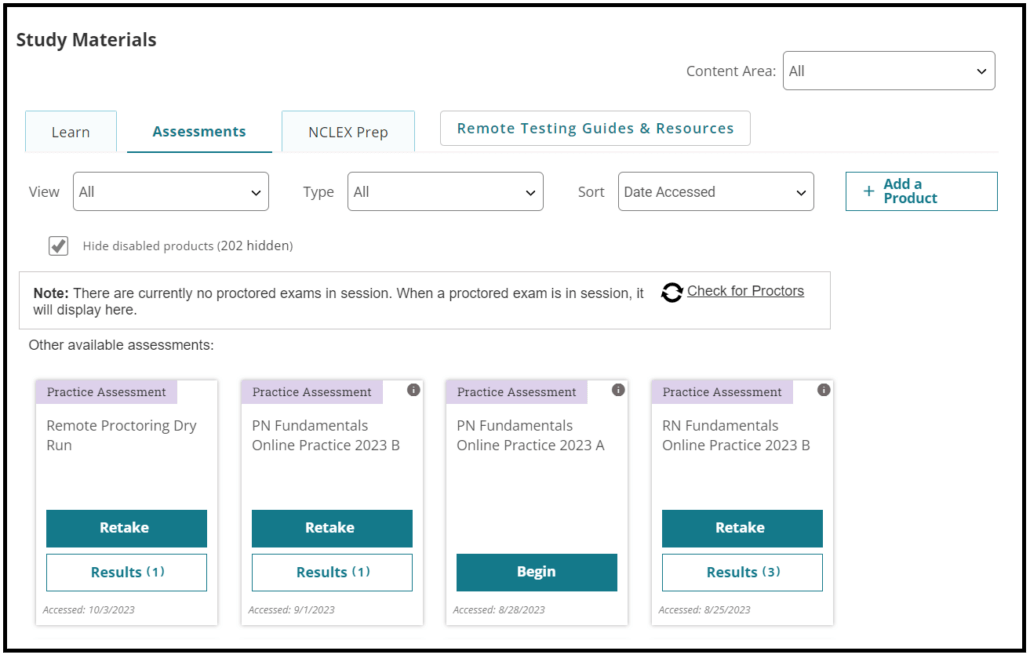 Dive into your Focused Review material as soon as possible after completing the assessment. The more time you let pass between taking the assessment and reviewing the material, the more knowledge you will start to forget, so try not to put off your Focused Review. Take some time either immediately after the assessment or the next day to look at the content areas you need to study and make a plan to work through each section in a timely manner.
Make use of the annotation, bookmark, and highlighting features. Your Focused Review will direct you back to the exact pages of your Review Module eBooks that have the information you need to study. Using the functions available to you, highlighting or annotating will help you to identify the specific information from that page that you need to improve on. Then, bookmark the page so it's easy to find during later study sessions.
Organize your notes with Active Learning Templates. Within each Focused Review, you will be provided ATI Active Learning Templates for a variety of different subject areas. These templates are designed to help you organize your notes and get you thinking about all of the different aspects of a topic that you should be learning about. Don't let this valuable resource go to waste! Download the Active Learning Template that applies the most to the content area you are studying and type directly onto it as you work through your Focused Review material.
What should I do after completing my Focused Review?
After completing the Focused Review for all of the content areas, you can continue to remediate on material that you have yet to master by checking to see if a quiz is available and retaking the Practice Assessment.
Quiz: A quiz will be made available to you after each practice assessment only if you scored lower than a 75% in one of the major content areas. Just like the Focused Review itself, this quiz is designed to test your knowledge of material that you have not yet mastered. Quizzes can have anywhere from 1 to 50 questions. If you see a quiz available to you, take it after completing your Focused Review remediation. You will receive an additional Focused Review study plan afterward based on how you performed on the quiz.
Retake practice assessments: After completing all of your personalized study plans, you can continue to remediate by retaking Practice Assessments. From the Improve Tab, select the grey dropdown box next to a Practice Assessment that says, "Attempt 1," and select, "New Attempt". Comparing your performance from the first and second attempts on the Practice Assessment is a great way to see how much your Focused Review has helped you improve!
Did you find this ATI advice helpful? If so, check out 7 Resources that Make Nursing School and Using ATI Easier!